The lunch challenge in the "Project Development" team of "Stiftung Bildung & Handwerk"
Regional, bio, freshness and flavour meets everyday routine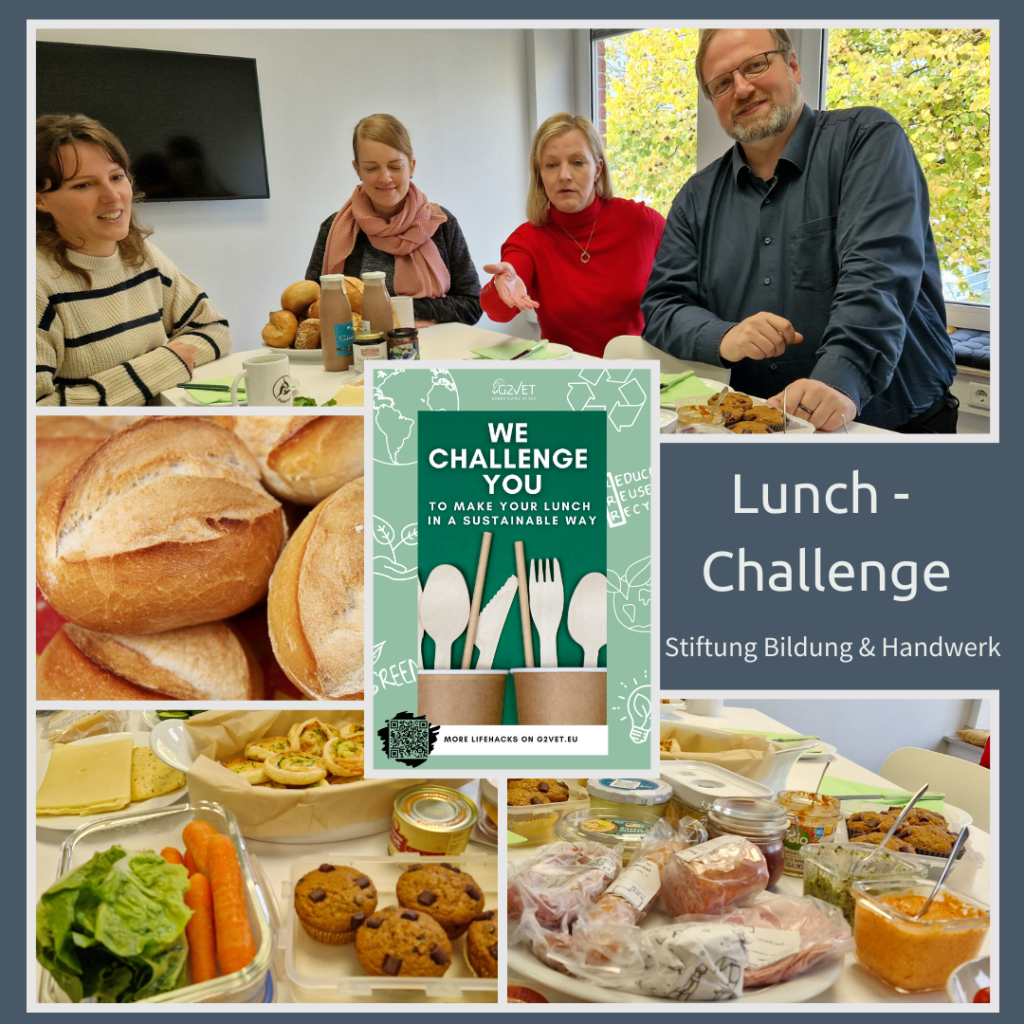 As a team, we work at different locations, but a colleague's anniversary had been on our calendars for some time and was now to be a surprise lunch. Four team members took on the challenge of organising this lunch so that they could surprise their colleague with something as regional, healthy and homemade as possible. It had to be well packaged and transportable, as we have long journeys to work or use our bikes.
So we ended up with vegetables and cheese labelled organic from the supermarket, although they were not from regional production. Milk and sausage products came from the local organic farm, which also surprised us with their reusable vacuum packaging. We made our own savoury and sweet baked goods from organic products and delicious dips, which went wonderfully with our fresh bread rolls from regional artisan producers. We savoured our lunch while talking about our experiences, which was also a good topic of conversation for the challenge. The leftovers were then packed in tins we had brought with us and still tasted good at home in the evening.
And that's what we learnt:
Spontaneous shopping the night before at the discount store around the corner is hardly an option for success. We miss the regional factor in particular, and the packaging is also critical. However, we can buy organic fruit and vegetables, some of which are even unpackaged.
It's better to plan your shopping: where can I get what and at what quality? The solution can sometimes be a local online delivery service. Otherwise, shopping takes more time, as other routes are necessary.
Preparing homemade food is fun, but it also has to be planned into the weekly routine between family commitments and leisure activities. And if you're going to make it yourself, then it's best to make a little more and stock up on it or treat your loved ones.
With a reusable packaging option, everything is easy to transport, even the leftovers, and there is hardly any waste. The online ordering solution for organic products from the local farm has convinced most of us and will certainly find its way into one or two of our shopping routines.
Our conclusion: Challenge taken and passed with a learning effect.